Filter by Category
Communication & Conflict Management
Conflict Resolution II Styles
with Margaret Schmidt

Sep 23, 2021 at 8:30 am
Understand the strengths and limitations of each conflict resolutions strategy. Identify your natural conflict style and think about the natural styles of your coworkers. Utilize all strategies as needed for effective conflict resolution.
Conflict Resolution III Dialogues & Behaviors
with Margaret Schmidt

Sep 30, 2021 at 8:30 am
Understand and utilize the conflict dialog guidelines. Face conflicts with a focus on mutual understanding through discussion and action plan development for long-term resolution. Consistently demonstrate behaviors that minimize conflict in the workplace.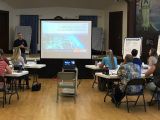 Communicating for Leadership Success
with Shawn Volland

Dec 14, 2021 at 1 pm
Organizations need leaders who can do more and be more in order to succeed in today's complex environment. They need frontline leaders with strong interpersonal skills who can get things done by mobilizing and engaging others.
As a result of this training participants will be able to:
Achieve results through others by building strong interpersonal relationships. 
Plan for successful interactions with team members─ in person and virtually. 
Provide meaningful, supportive feedback that motivates team members and helps individuals improve their performance. 
Impact business outcomes by consistently meeting the personal and practical needs of others.